Disney's Lady and the Tramp On Blu-Ray!
This post is in collaboration with Disney Studios.
Disney's Lady and the Tramp is out on Blu-Ray, DVD and Digital and is just as wonderful as I remember watching on VHS when my oldest two were little. The Blu-Ray comes loaded with extras including new bonuses and deleted scenes never before seen. Lady and the Tramp is a delightful family night movie with the little ones!
Disney's cherished animated classic, "

Lady

and the

Tramp

," joins the highly celebrated Walt Disney Signature Collection. Every member of the family will treasure this timeless tale—loaded with three versions of the film, classic bonus material and three all-new features—when it heads home on Digital and on Movie Anywhere Feb. 20 and on Blu-ray on Feb. 27.
New Signature Bonus
Turning the Tables

– In this story-reel presentation,

Tramp

dreams of a world where dogs run the show and humans are on the other end of the leash.

The Arrival of Baby

– In this alternate scene re-created from original storyboards and with original voice talent,

Lady

makes way for a new arrival.

Baby Arrives

–

Lady

is baffled by the strange goings-on in the house—the arrival of a squealing bundle only deepens the mystery.

Lady

's Sweater –

Lady

gets a new sweater for her birthday and must figure out an ingenious way to lose it for good.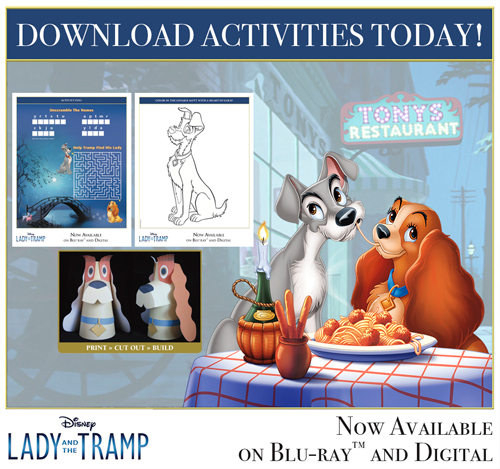 The Walt Disney Signature Collection edition offers three exciting ways to watch "

Lady

and the

Tramp

"—the original theatrical version, sing-along mode and Walt's story meetings—both Digitally and via the Multi-screen Edition (formerly the Blu-ray Combo Pack). The Multi-screen Edition includes Blu-ray, DVD and a Digital copy, giving in-home consumers the flexibility to watch the film on different devices. In addition to classic bonus features, all-new extras invite viewers to enter Walt Disney's original office suite on the Studio lot, discover Walt's personal passion for pups, and receive a celebrity-hosted spaghetti and meatballs cooking lesson.
As one of the greatest love stories ever told, "

Lady

and the

Tramp

" is sure to melt the hearts of generations with its beloved characters, brilliant animation, memorable music and sweet sentiment. The animated treasure tells the story of

Lady

, a lovingly pampered cocker spaniel, and

Tramp

, a freewheeling mutt with a heart of gold. Through the Signature Collection edition, viewers can relive the pair's thrilling adventures, sing along with the film's unforgettable songs like "Bella Notte," and swoon over one of the most memorable movie moments of all time—the iconic scene in which

Lady

and

Tramp

share a plate of spaghetti and an accidental kiss.
This post is in collaboration with Disney Pictures and opinions are my own.